My surprise for You:
The first Male Artist
Dhananjay Mukherjee
and his wonderful painting
Lord Krishna 7
India
Dhananjay Mukherjee on Facebook
Originally, I only wanted to present Lovers to you, who were created by female contemporary artists. But the Love in Dhananjay Mukherjee's paintings mesmerized me. How can I keep this wonderful magic away from you? Thanks to Dhananjay Mukeherjee, you will see Lovers created by men from time to time. More about that under FAQs. Here, I want Dhananjay and his art to speak: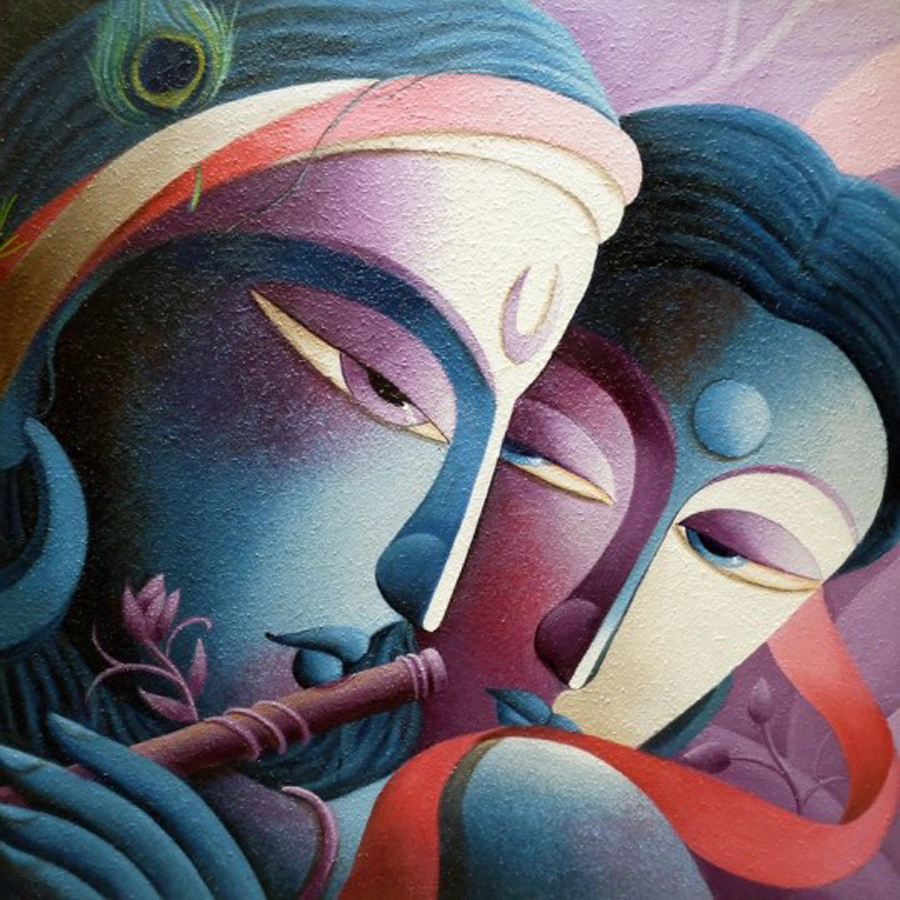 My Birth place is Bishnupur, approximately 225km from Calcutta, basically Bishnupur is a jungle area, in which many tribal families like the SANTHAL, the KOHL, the MUNDAS and the GOND etc, live. From my home, the jungle is only 1 km, and during my childhood, I played in the Jungle with tribal boys and girls. When I was hungry, I ran to the jungle to eat some fruits, vegetables and honey with help of the tribal boys. They love me unconditionally, they respect me lot. And I love them unconditionally and respect them a lot.
I know the Santhals from my childhood. Through their songs, they expressed their anguish. Through their festivals and rituals, songs and dances, they remained rooted in their culture. When their young men in large numbers started leaving for the cities in search of work, these cultural roots were threatened.
But I love their love, dance, culture and rituals very much.
They created their homes with beautiful paintings in the door and window area. I always tried to help them and also learned their art. They also create various figurative drawings like birds, lions and elephants etc. I saw their lifestyle closely.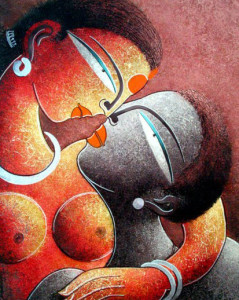 I saw their love life, I feel their unconditional love. I can't express their feelings. Today, when I look, I can't find any kind of ego. They are lovely people, they respect each other, they love their God, the Jungle. One of my Santhali friends worked in Calcutta, but he is no more. When I go for prayer meetings to his home, his father told me, "You know we are Jungle People, we are not adjusted to live in a big city".
Today of course, many tribal descendants work in the City Area.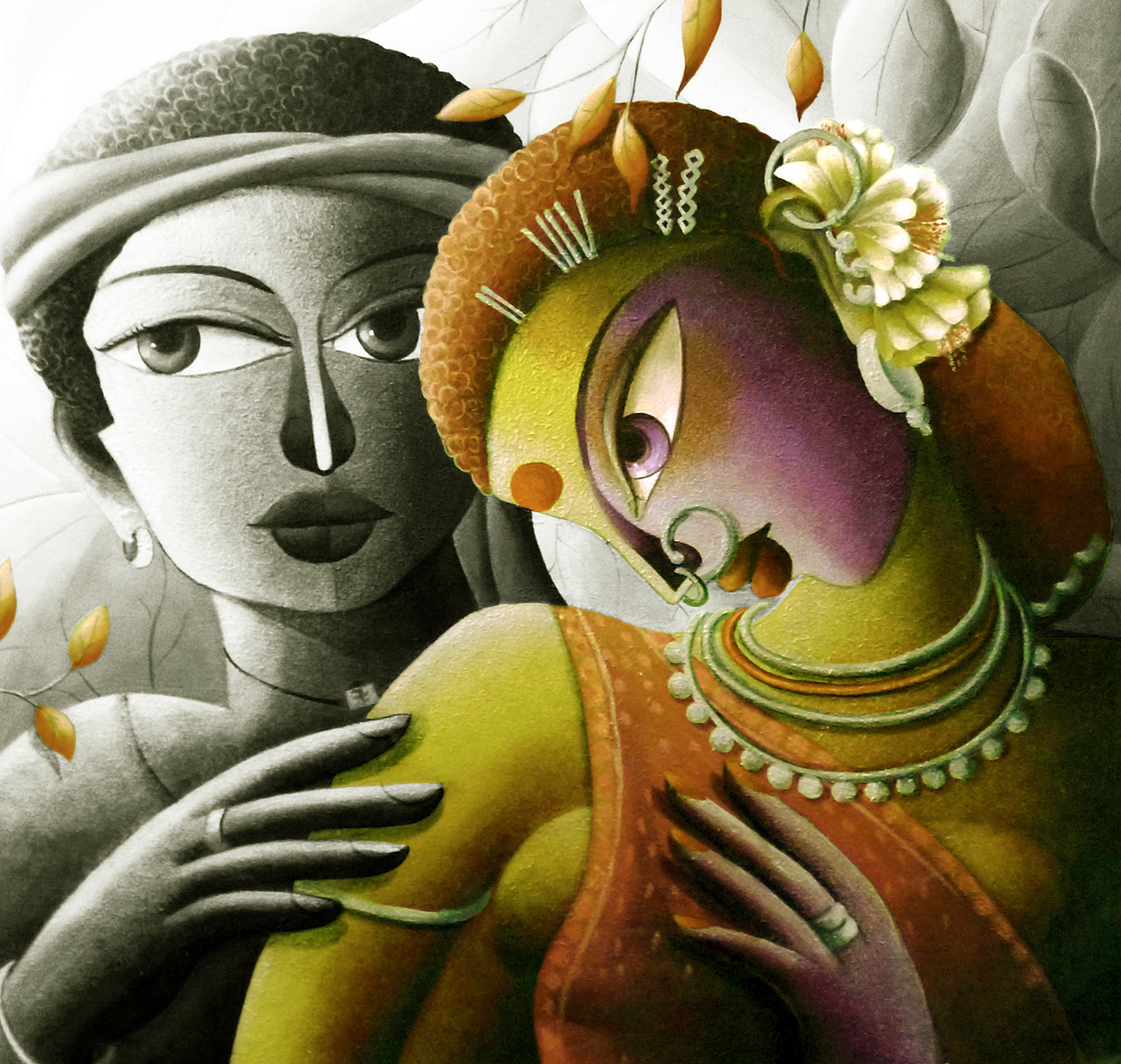 But when I saw their love life, they care about small small things, they make each other smile. When I saw newlyweds, they respect each other, they love each other, they can die for each other. They work for each other, basically it is divine love. I can never express in my canvasses their feelings, their emotions, but I tried.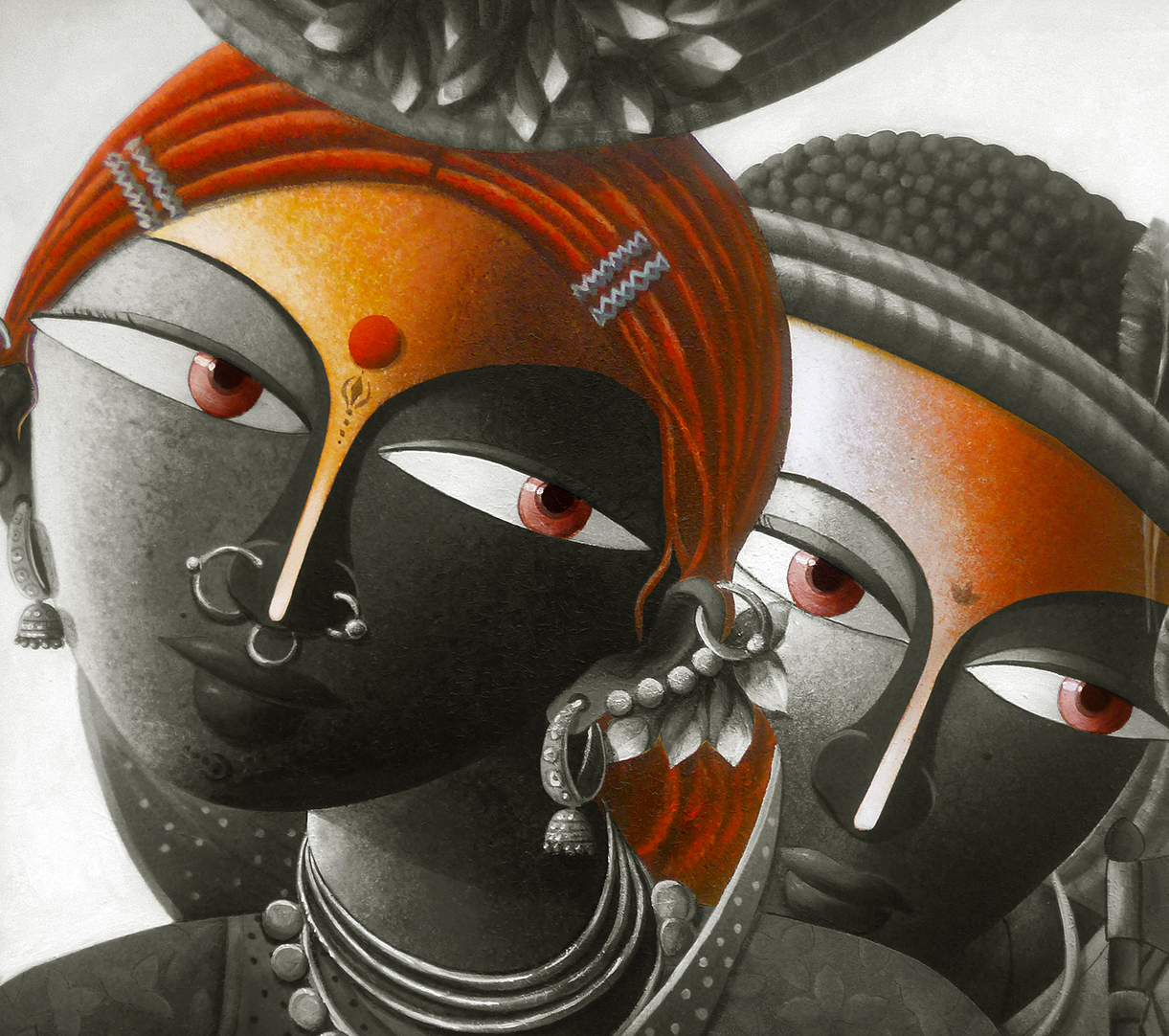 When I saw Indian tribal art, I saw only one style of art, ancient tribal art, but there is no feeling nor expression. So when I left college, I decided, I want to fill my canvasses with their love, their feelings, their faith, their rituals and their culture. And I tried to make a new innovative art, with the help of some old Indian art like WORLI ART,  MODHUBANI ART, GOND ART and also with the help of the beautiful tribal people. Now the result can be called "CONTEMPORARY TRIBAL ART".
I create graphic and structural uniformity on canvas through the play of light & shade. My paintings are basically a judicious mix of the abstract and realistic and tribal forms. My thoughts stem from unique imagination, which combines the real natural world with the artistic and creative world. I find modernism on canvas with the help mythological and old Tribal art . I express graphic and cutout form through mythological and old Indian art series with remarkable use of colours to depict the unknown mysteries in the natural world. I paint with oil & acrylic colours on canvas.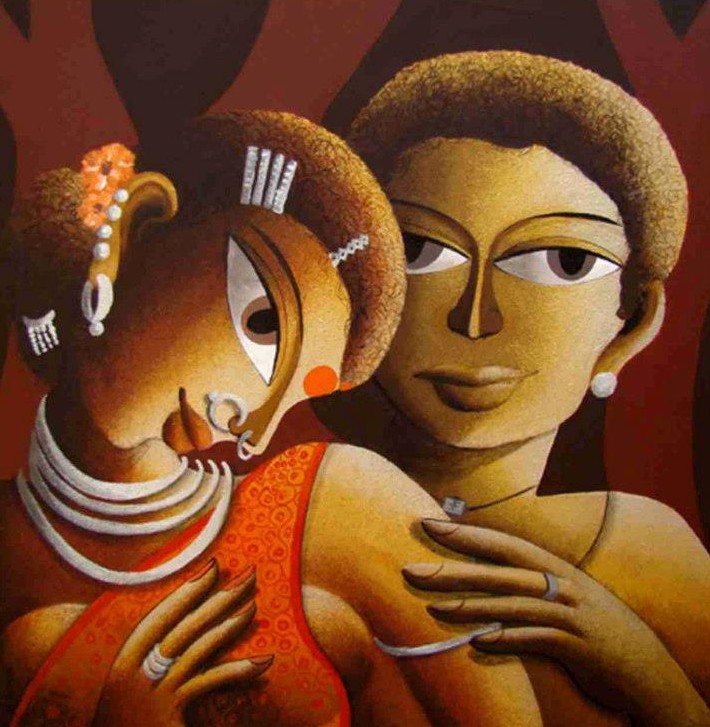 My tribal art series are "MRIGAYA" means hunting, This is all about tribal's hunting festival in west Indian area. I exhibit with my art series " MRIGAYA"at New Delhi and Mumbai. I also make "THE GREEN GOD" art about jungle love, trees love, their expressing and feeling.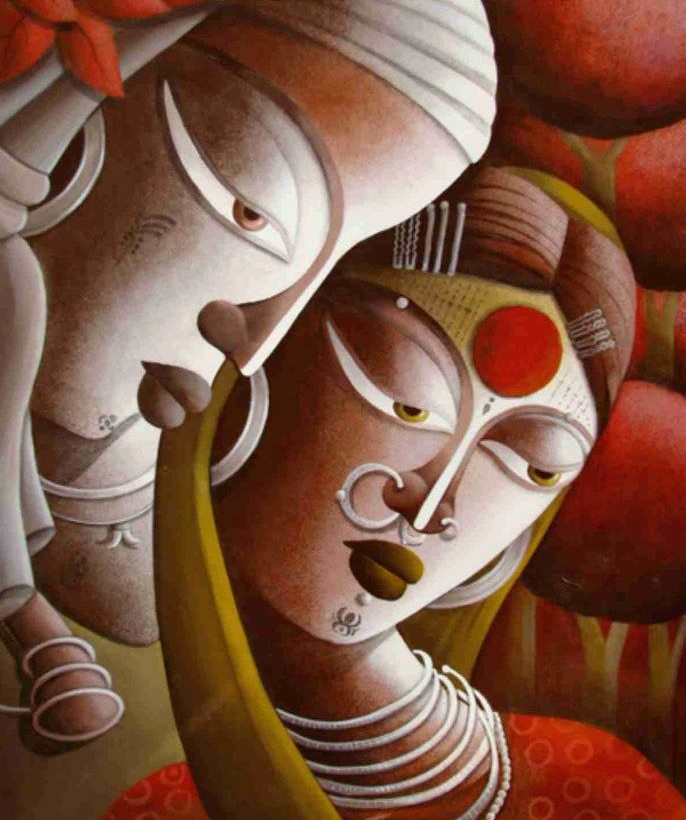 Eternal Love of Radha Krishna:
Lord Krishna is India's peerless avatar. He took incarnation many years ago when India was facing internal strife. Through his devoted disciple Arjuna, Krishna gave the immortal message of the Bhagavad Gita on the ballte fileds of Kuruksetra. The Bhagavad Gita is a teaching of the hightest divinity.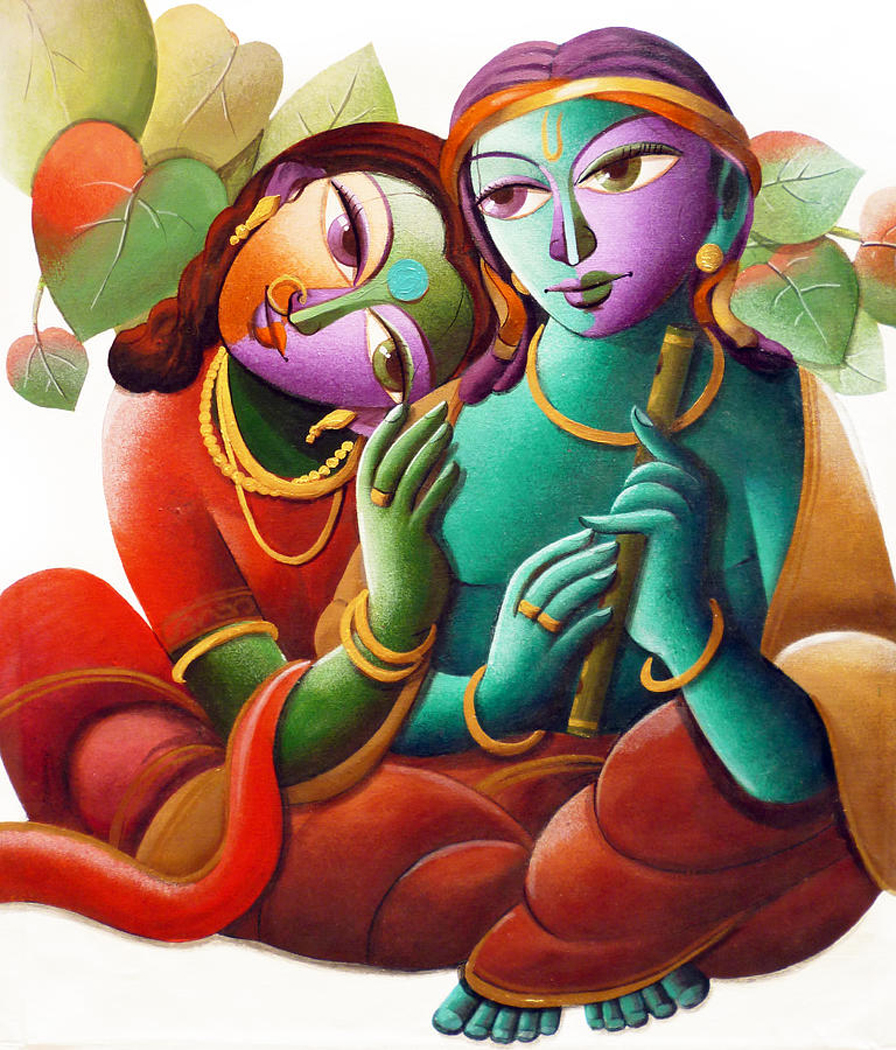 Radha Krishna: A Divine Love – The love tales of the Hindu God Lord… He was brought up in Vrindavan  by the cowherd family of Yashoda and Nanda Raja. … worships the highest devotion, Radha. the reast is all story that was written…
Please visit Dhananjay Mukherjee on Facebook,
in order to discover more of his art.
If you want to buy Dhananjay's art, or invite him to take part in an exhibition,
please contact him directly.
Dhananjay Mukherjee on Facebook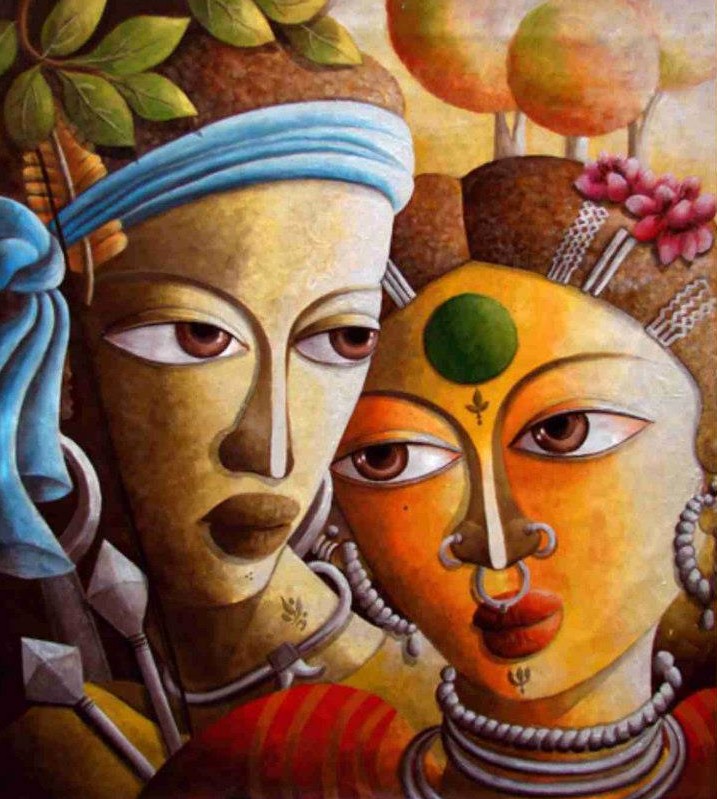 Dhananjay is creating new lovers for this project,
which I will present to you in this blog.
So stay tuned!
You may also like